A cross-country road trip reveals some remarkable things about America. Across the continent the vast differences in culture are evident in the range of clothing styles, food preferences, accents, vehicles, and dwellings; in our music, art, politics, and economic stability. But as great as our cultural differences are, they are insignificant compared to (and thoroughly shaped by) the differences in our ecosystems. Here in Vermont we are famous for our sugar maple trees and cheddar, while California boasts giant sequoias, fine wines and orchards as far as the eye can see. The temperate wet summers and dry autumns of the Pacific Northwest produce the best of many seed crops, while less than a thousand miles to the south the landscape is so dry that only cacti and C4 plants survive.
In the wild, that is. Tenacious farmers and gardeners of the arid southwest are coming up with new creative ways to raise food even in the driest regions of our diverse continent. This is a unique area even from a global perspective, characterized by martian-looking plateaus and buttes of red rock, high-altitude windswept mesas, and magnificent canyons carved by deep rivers that dried up generations ago. Day and nighttime temperatures can vary by as much as 60 degrees F, and at first glance one can see that farming in this environment requires an equally unique approach.
Unfortunately the water problem is getting more severe, with irrigation water becoming more expensive and less available as agriculture intensifies, and major rivers like the Colorado drying up long before reaching the ocean. Now more than ever we need to produce more food with less water. So we talked to Erich Schultz, a High Mowing customer and Head Farmer at The Farm at Agritopia® outside Phoenix, Arizona about some simple techniques and varieties contributing to the success of farmers and gardeners in the drylands.
The Farm at Agritopia®
The Farm at Agritopia® is a 15-acre certified organic urban farm in the heart of a housing community called Agritopia® located in Gilbert, AZ, a suburb of Phoenix. The community website describes Agritopia® as "something of a modern day village set within the urban fabric of the Phoenix metro area…[it's] about preserving urban agriculture and integrating it into the most neighborly, well-designed community possible." The community features two restaurants that source produce from the farm and according to Erich, "Because of our climate, we can farm year round growing a wide range of row crops ranging from arugula to tomatoes, plus orchards for citrus, peaches, apricots, apples, medjool dates and olives. We grow 3 varieties of heritage wheat (White Sonora, Red Fife and Khorasan). We also raise sheep, chickens, ducks and turkeys as well as keep bees." The farm produce is sold
through their farmstand, farmers markets, a CSA, and to restaurants. The climate presents its challenges, however. According to Erich, "Our summers can be quite warm (110+) and our winters can have dramatic temperature swings (60 during the day and 15 at night)." Erich has learned to work with the climate using some key xeriscaping techniques.
Xeriscaping Basics
Gardening to minimize water usage is called xeriscaping. It is essentially a means of using traditional gardening techniques but in slightly different ways to reduce the need for irrigation.
A Plant for Every Place
The first basic principle is to match plants' water needs to different microclimates, seasons, and soils on the property - this is an important technique used at Agritopia. According to Erich, "We grow our cool weather crops like roots and greens fall through spring, and warm weather crops like tomatoes, peppers, eggplant, cucumbers, melons, sweet potatoes, and beans in the spring through early winter. We've had a great carrot, kale and broccoli crop early this year and are currently having a great melon, pepper and eggplant crop. We harvest citrus winter through spring, medjool dates and olives in fall, and peaches and apples in spring." In other words, don't try to fight nature by growing things out of season, like planting spinach in the summer—instead, only try to grow it at times of year when it will do well (probably only in the winter in the Southwest).
Mulches and Irrigation
Another important xeriscaping technique involves using mulches and drip irrigation to reduce evaporation from the soil. The Farm at Agritopia® is fortunate in this regard—according to Erich, "Our soil has a high percentage of clay in it which is helpful for holding moisture." Despite the retentive qualities of the soil, however, he says they "use a low water-use drip tape irrigation system which allows us to be very precise with the amount of water we apply to the crops." If you don't have good soil that retains water, adding lots of organic matter is a good technique to increase water retention.
The Right Plants
Lastly, choosing drought-tolerant plants that do well in the local climate will be one of your best tools for success. Erich has found that certain varieties, such as Shishito Peppers, Listada di Gandia Eggplant, Snowy Eggplant, Little Finger Eggplant, Sugar Baby Watermelon, Waltham Butternut Squash, Lovelock Lettuce, Magenta Lettuce, Ronde de Nice Squash, Cocozelle Zucchini, and Sivan F1 Melons tend to be successful in the hot, dry conditions. If you want to grow greens in the summer, try some of the Asian Greens like Shanghai Green Pac Choy, Vitamin Green, and Toyko Bekana, all of which are more heat-tolerant than lettuces and mustards.
The Power of Shade
If you've ever come into the house after gardening on a hot summer day then you know the feeling of relief brought on by shade. Plants in hot dry places experience this too! One solution that can greatly increase the variety of plants that can be grown in a dry climate in summer is to utilize shade to its fullest extent. Populating the garden with trellises, arbors, shade cloths, and tall drought-tolerant plants like cacti, palms and acacias can make gardening much more pleasant for you and the plants. Trellises and shade structures can also protect against frost and slow down drying winds, while drastically reducing the water needs of the plants beneath them. Drought-tolerant plants like bougainvillea can be trained to climb over them, creating a stunning display of color above while deepening the shade below. Below your shade structures, your planting options expand. Traditional garden plants like tomatoes, which wither under the heat of the Texan sun, can grow beautifully with a little shade. This is how tomatoes are often grown in Southern Italy, which has a similar climate and soil to the American Southwest. Planting them in self-watering containers will further increase their success, and they too can be trained to grow up a trellis. Between your tomatoes will be even shadier; here you can plant low-growing greens, radishes, and roots that would not last a day without their leafy protectors.
The Green in the Gray
Graywater, or the water that goes down the drain of your kitchen and bathroom sinks, showers, and washing machine, is a valuable and underutilized resource in areas that face chronic water shortages, and it collects a lot more quickly than water in a rain barrel. While this water can contain contaminants, it can also be used safely on garden plants with just a few simple changes—just be sure to check the local regulations about using graywater in your area. If biodegradable soaps are used and harsh chemicals like bleach are avoided in the household, graywater, especially from sinks, can be safely used on ornamental and even edible plants in the landscape. The simplest method is to remove the greasetrap under your sink and place a bucket below, using this in the garden as it fills. More sophisticated systems which divert the water directly outside can also be created easily and cheaply. Just be sure to keep the following in mind when using graywater in your garden:
Try to alternate between watering with fresh water and graywater to avoid buildup of sodium salts in the soil. Test the soil annually and add calcium sulfate or another sulfur product to lower the soil pH if necessary.
Water the soil around the plant with graywater – not the foliage. Add organic matter like compost to help break down any toxins.
Avoid using graywater on slopes where it will run off, especially near streams
Limit graywater use to 50 gallons per week per 100 square feet of garden
More Ideas and Resources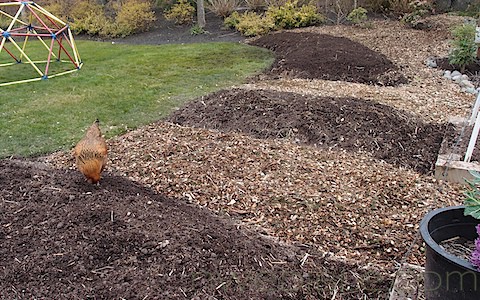 There are lots of individuals and non-profit groups currently developing innovative techniques for reducing the water required to garden in dry climates. A neat example is the Food is Free Project, a non-profit in Austin, Texas that helps communities build "wicking" garden beds, a type of large self-watering container that has a water reservoir and can be made using waste materials. To learn how to build your own wicking garden bed, visit the Food is Free Resources page.
Another interesting technique for reducing water usage and building soil rich in organic matter is called Hugelkultur (a German word, pronounced HOO-gul-culture). This is a method where you make a pile of waste wood (sticks, wood chips, logs, just about any wood that isn't pressure treated), then cover the pile in soil, packing soil into all the crevices. Water in thoroughly, allowing the pile to settle for a few days before planting. You can then plant this mound with plants or seeds, and the decomposing wood inside will act like a sponge for water, soaking it up when water is available and releasing it back to plant roots in times of drought. This method has been widely used all over the world to grow food and build soil in desert-like environments. It doesn't need to look like a huge pile of dirt, either—by building a lower, broader pile within a raised bed, then finishing off with a layer of mulch on top, it will look just like an ordinary garden bed.
To learn more about Hugelkultur, check out Margaret Roach's article Hugelkultur Raised Garden Beds which features a gardener in East Texas and our friend Erica's article Half Ass Hugelkultur from the Pacific Northwest.
And check out The Farm at Agritopia® online and on Facebook!